FOODFINDER3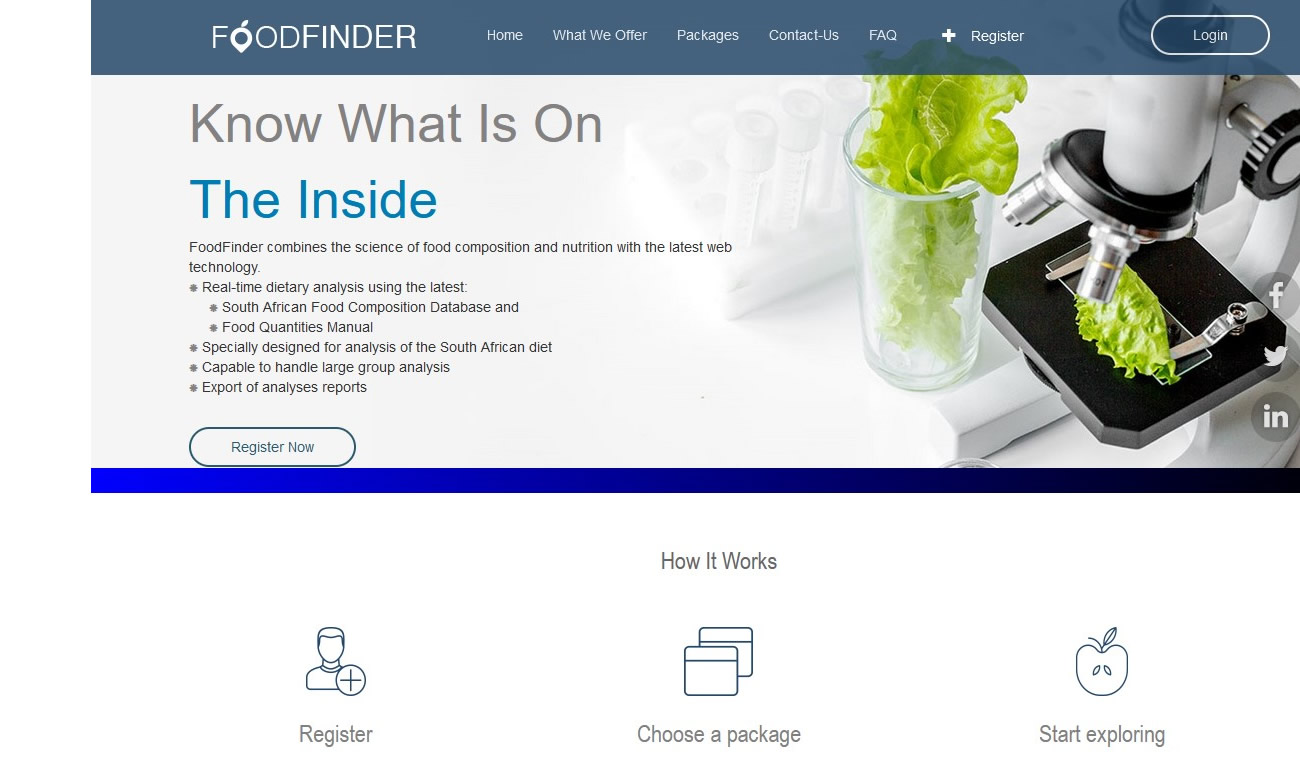 What is it?
FoodFinder3 for Windows is a software program specifically developed for South Africans who are interested in the analysis of the food intake of individuals or groups of individuals.
What does FoodFinder3 include?
FoodFinder includes the South African Food Composition Database i.e. the update on fruit and vegetables (1998) and the update on milk, eggs and beef (1999/2000) in addition to the information in the 1991 Food Composition Tables.
The information on food quantities in the MRC Food Quantities Manual Second Edition (1991) has been included to simplify the entering of quantities of food eaten by individuals.
What can FoodFinder3 do?
A lookup function is available to view the nutrient content of more than 1000 food items.
Information on dietary intake can be entered either as food items or as food codes.
The energy and nutrient content of recipes can be calculated and added to the database for own use.
Note: The recipe calculation method in FoodFinder3 is based on cooked food items and not raw food items. There is no provision for yield and retention factors in the recipe calculation method. Raw ingredients should therefore not be entered into recipe calculations.
The energy and nutrient intake of an individual or a group of individuals can be calculated for a specific meal time, a specific day, or for several days.
Information can be edited, viewed or deleted.  
FoodFinder3 is a data capturing program linking the amount and type of food consumed to the food composition database in SAFOODS for analytical purposes. FoodFinder3 is not a statistical analytical software program. Information entered into FoodFinder3 can be exported to other programs, such as Microsoft Excel, for further statistical analysis of the data.
Printouts of the information can be made.
Click here to view a slide show on FoodFinder. (pdf format, 283 kb)
Order form (pdf format, 144 kb)